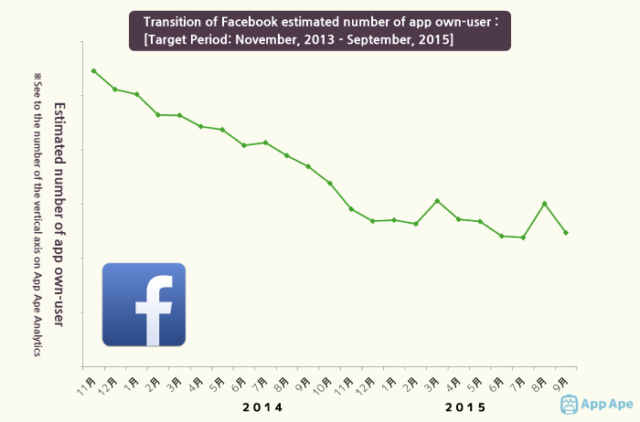 This article from App Ape Lab. If you want to read original article, please check below the URL. (Original Article: http://lab.appa.pe/2015-10/facebook-user-2015.html)
Unstoppable drop of domestic Facebook users percentage has been witnessed. We researched a number of users who own Facebook app from Nov, 2013 to Sep, 2015. We made a graph of Facebook app holduser which is shown below.
Data: AppApe Analytics (analyzed from about 30,000 domestic Android Device.
Estimated app ownuser: Ratio of Panel User who owns its app at the end of the month within the target period multiple by Android Users in Japan (32,400,000 People)
Facebook lost 13% of Japanese Domestic Users in Only Two Years
We compared the the number of Facebook Own-User of Nov, 2013 to Sep, 2015, there was 13% decrease on the number of users. Just in two years, Facebook lost 13% from big number of users. This number shows the aggravation of people who leaves Facebook.
From here, we will dig into deeper data to see which age-group
users are no longer using Facebook. Below, we created the chart which shows gender-age group app own user rate of Facebook within the target period of November, 2013 to September 2015.
Male-Female age group ratio: ratio by age group (male and female x age group) of its app within a target period.
Possibiltiy of Teens and 20's leaving Facebook
If you take a look at the possession rate of each age group, Facebook users are mostly consisted of 20's and 30's age group.
This is only an estimate due to the changes in a total number of users. When we take a look at the user's demographic, it is decreasing with the focus on male teens and 20's, also female teen's. It is possible that young generation are leaving Facebook drastically.
We looked at data of Facebook for Japan this time, but twitter could be next interesting app to look into its data since twitter also has experienced losing their users on a worldwide scale. We will report if there has been any change of uses of twitter among Japanese users known as one of the most heaviest twitter users in the world in near future.
Comments