A big deal broke out on the morning of January 11th.
On the 11th, Kakao(Representative Ji-Hoon Lim) announced its takeover of 76.4% of shares of Loen Entertainment(Representative Won-Soo Shin, referred to as 'Loen' throughout the rest of the article), the number 1 comprehensive music contents company in Korea, at 1.87 trillion KRW(154.2 million USD). This decision was made based on the strategic judgment that Kakao's mobile platform competitiveness and Loen's music contents advantages can create a basis for a new contents platform as well as a basis for global expansion later on. – Kakao takes over 'MelOn' … takeover of Loen Entertainment's shares at 1.87 trillion KRW(Platum)
1.87 trillion KRW. Of course, this amount is not entirely Kakao's money. There are hints implied in the press release if one reads it more carefully. Kakao secured a capital of about 750 billion KRW by issuing new stocks to Star Invest Holdings(Affinity), Loen's previous major shareholder. Rather than a unilateral takeover, it was a 'mix of money'. There are plans to make use of internal cash and finance for the remainder amount as well as external attraction of investment.
Now, was Kakao a huge fan of IU – one of the most popular celebrities in Korea represented by Loen Entertainment?
Well, this may be true, but let us look into the issue in depth to find some meaning in terms of platform.
# A 'win-win' situation in terms of contents platform
Kakao began servicing Kakao Music since 2013 after its partnership with Neo Wiz Internet. The decision was an effort to connect KakaoTalk users and the SNS platform KakaoStory through music. In my personal opinion, I saw no noteworthy synergy.
The reason behind this is simple. As it is a form of 'partnership', it is no better than simply transplanting music to Kakao platform. For platform businessmen, this is clearly a disappointment. Rather than simply adding music, there would be bigger meaning if it was used as an index to understand user preference.
It is not only Kakao who was disappointed. Loen Entertainment did not want to make use of MelOn as a simple music streaming service as well. In an interview 2 years ago, Kang-Suk Kim, Loen Entertainment's IT Group Manager(Picture), said the following words and revealed the blueprint of MelOn.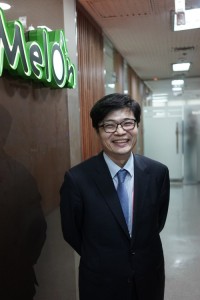 "User data of MelOn for the past 15 years were uploaded to a Hadoop based big data platform for analysis. It was to connect singers and users in further detail. For example, 6.6 million users on MelOn currently are listed as 'fans' of the singer IU. Through big data analysis, we invented something known as fan consumption index. We provide this information to entertainment companies and singers. The fan consumption index number of users who are listed as fans increase through activities such as increasing number of times they listen to IU's music or adding comments. Entertainment companies and artists can provide customized marketing through the fan consumption index."
MelOn secured their own big data platform 'MLCP(Music Life Connected Platform)' and provided customized contents such as similar music to specific songs. As well, MelOn launced MelOn Shopping in 2015 and tried to make connections to e-commerce. However, it seems there were difficulties in any further expansions since MelOn's origin is a music streaming service.
In such a situation, Kakao can utilize MelOn's big data while MelOn earned a contents platform called Kakao. It is a 'win-win' situation for both.
# Why Music?
Why music? There are a lot of questions raised about why Kakao purchased a music streaming service at such a large price as 1.87 trillion KRW. It should be noted that mobile-based services that are most often used can be summarized into writings, pictures, music, and e-commerce.
Kakao secured the area of writing and pictures. Kakao's users and MAU are at 38 million and they are running the most popular domestic smartphone messenger, KakaoTalk. However, Kakao was unsuccessful at expanding into SNS. The strongest player of SNS is still Facebook and the strongest player of image-based SNS is Instagram.
Domestic Facebook MAU is at 16 million and DAU is at 10 million in the 3rd quarter of 2015. – 5th anniversary of Facebook Korea…. Domestic users at 16 million (YonhapNews)
They lost writing(Facebook), and they lost pictures(Instagram). In such a situation, music appears to be the only open area left. As mentioned before, MelOn, that had accumulated and analyzed 15 years' worth of users' music preference data, would have most likely seemed appealing.
#MelOn+Kakao, global expansion once again?
MelOn launched 1theK in 2014 and signaled its global expansion.
Loen explained that the name 1theK successfully contains the idea how K pop contents are gathered into one place (One Spot), has various attractive features (Wonder), and also symbolizes world best superstars and dreams in a complex and compressive manner. 1theK plans to act as a stable stepping stone for the Korean Wave to continue its way into the global music market by providing idol-centered contents as well as various genres of K pop through continuous expansions of new media channels. – Loen launches global K pop brand '1theK' (etNews)
Loen had intentioned to enjoy the benefits of the Korean Wave after placing 1theK on global video platforms such as YouTube. The YouTube page is reaching 1~3 million views currently. Full versions of Korean stars' music videos, live performance videos, and interview videos with subtitles are being released on YouTube.
Kakao is currently thirsty for the global market as well. Even though they entered Japan first, Kakao had to give up its position to Line. In January, 2015, Line reached 600 million users. Southeast Asia is also an empire of Line. Kakao is the undefeatable number 1 in the domestic market, but they have no place in the global market.
Although they lost in the messenger area, they are attempting to regain its competitive position through the Korean Wave. Naver had launched their Southeast Asia entry through the release of mobile live broadcast app V and Line TV and Kakao is showing attempts to fight against Naver through their music streaming platform and their partnership with MelOn that has Korean stars' contents.
A question does arise: "Will Bugs Music, another music streaming service that already had a partnership with Kakao Music be neglected and go out into the cold?" However, Kakao's takeover of MelOn does seem to have many meanings in terms 'platform and contents' synergy'.
Comments