This year the Elevator Pitching Competition will enlarge the focus to worldwide startup entrepreneur cities, shortlisted overseas team would get one sponsored round-trip ticket to HK.
Elevator Pitch Competition, "EPiC" in short, is a fun-filled international start-up event organised by Hong Kong Science and Technology Parks Corporation. 100 start-ups will be selected to pitch their ideas in a 60-second elevator ride at the International Commerce Centre, the most iconic skyscraper in Hong Kong. They will compete for the chance to win an investment prize of up to US$120,000.
The response from last year. Who came? (how many people from outside of HK? From which countries?)
The event received over 400 applications. 90 per cent of the participants were from Hong Kong while non-local contestants competing in the event included teams from Taiwan, mainland China, United States, Canada and France. About 25% of the contestants are female.
Any really great ideas that resulted? (please mention around 3 of the more interesting ones) 
You can find a lot of interesting ideas in the 100 teams. For example, One of the final 10 contestant, Heartisans Limited is developing a new wearable wristband to ensure heart health and save lives. The prototype is already out and undergoing clinical trial in various health centers in Hong Kong.
Another final 10 contestant Platysens Limited develops wearable which focused in the sport market. The company is developing sports sensors and analysis tool to enable open water swimmers to improve strokes. The product "Marlin" exceeded its US$20,000 crowdfunding goal after receiving more than US$37,000 from a Kickstarter campaign. Founded by engineers and sports enthusiasts, Platysens has been part of the Incu-Tech programme at the Hong Kong Science and Technology Park (HKSTP) since launching in 2014. It was named a 2017 CES Innovation Award Honoree for its debut product.
Need not to mention is the champion Origami Labs with the product ORii – The first wireless audible device in a ring that turns your hand into a smartphone in a practical and stylish way. ORii is the first wearable that puts the convenience of a voice assistant on your finger. Discreet and fashionable, this smart ring lets you listen to a phone call and talk to your voice assistant (such as Siri) just by placing your finger on your ear.
Pair ORii with your smartphone, touch your ear, and start giving commands! Make a phone call. Schedule a meeting. Listen to a text message. It's never been easier or more stylish to be a productivity warrior.
Tell us about the types of start-ups & entrepreneurs who you think should apply for this year?
This year, HKSTP is organizing another international start-up pitching event on November 2 at the city's tallest building, the International Commerce Centre (ICC), named the Elevator Pitch Competition, "EPiC" in short. Local or international company which is less than 5 years old as of 24 April 2017 and the focus technology areas including but not limited to Robotics, Healthy Ageing, Smart City and Fintech are welcome to apply. Start-ups will undergo a wide range of activities including trainings, workshops and boot-camps from July to November 2017, in order to get prepared for the business idea pitching in 60 seconds at the elevator of Hong Kong's tallest building.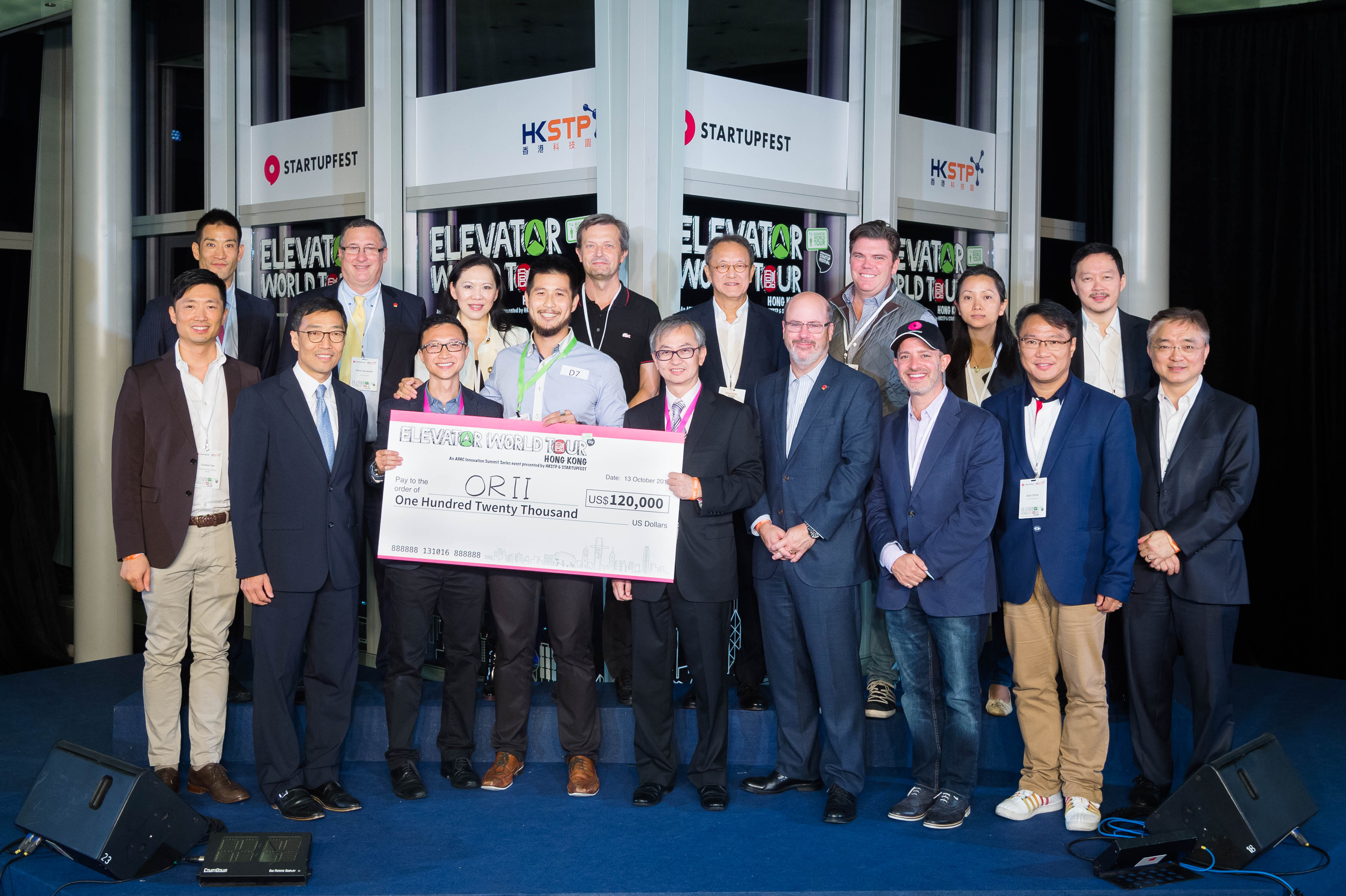 Spread your ideas in a fun way
Within the start-up community, an "elevator pitch" is a short summary of your business model, ideally delivered in less time than it takes to ride an elevator, but compelling enough to get a follow-up meeting. To win an investor's heart, you have to get your own "elevator pitch" ready.
This competition will give you a chance to win investors' hearts and up to US$120,000 funding in just 60 seconds inside the elevator of ICC, the tallest and the most impressive building in Hong Kong.
Application closes on 30 September 2017. Apply Now! You may be one of the 100 shortlisted start-ups and pitch your idea at EPiC on 2 November 2017.
For more details of the event, please visit http://epic.hkstp.org.
Comments